Prof. Dr. Roland Riek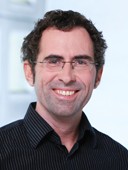 Vladimir-Prelog-Weg 1-5/10
8093
Zürich
Switzerland
Additional information
Curriculum Vitae
Roland Riek has been Full Professor of Physical Chemistry at ETH Zurich since May 2007. His group conducts research in the field of Biological NMR.
Roland Riek was born in Bern in 1969. He studied Physics at ETH Zurich. After earning his diploma, he remained at ETH to do his PhD with Prof. Kurt Wüthrich at the Institute for Molecular Biology and Biophysics. He finished his PhD thesis about the NMR structure of the Mouse Prion Protein in 1998. After a few years as postdoc at the Institute for Molecular Biology and Biophysics at ETH, he joined the structural biology laboratory of the Salk Institute for Biological Studies in La Jolla, California, first, in 2001, as assistant professor, then in 2006 as associate professor, and director of the NMR facility.
Research interests include the study of 3D structures of membrane proteins and misfolded protein aggregates associated with illnesses as well as the study of the dynamics of proteins and their interactions with other proteins.